Beyond The Stigma: See Mitchells Plain In A New Light
Whether you're from there, or never been there before, see Mitchells Plain for its beauty as it transforms into a car-free playground in the name of togetherness and shared space
Mitchells Plain has a reputation for crime and gangsterism, but in truth is a bustling community filled with talent, entrepreneurship and ambition. Open Streets Mitchells Plain will showcase these good traits and much more positivity when it transforms part of the sprawling suburb into a vibrant and inclusive space for the fourth time on Sunday, 31 March 2019 from 12pm-5pm.

After previous success on Eisleben Road, the stretch between Morgenster Road and Montagu Drive will be opened for walking, playing and exploring at this year's event.
The free gathering aims to create a platform for recreation and creative expression while encouraging connection and sharing between people.
Come along on the day to be part of creating another successful Open Streets Mitchells Plain. For more details, you can refer to the Open Streets website.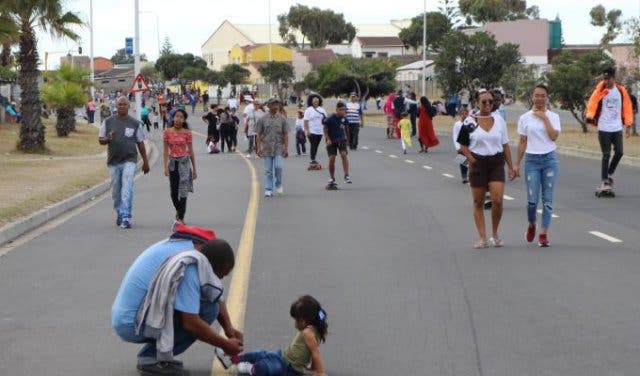 GET TO OPEN STREETS WITHOUT THE CARBON FOOTPRINT
It's fairly easy to get to Mitchells Plain in an environmentally-friendly way. Hop on a minibus taxi, take a bus ride or carpool with your friends. The whole point is to experience the city without a private motor vehicle.
MORE ABOUT OPEN STREETS IN CAPE TOWN
Open Streets Cape Town is a non-profit organisation experimenting with a concept that has already taken hold in over 400 cities worldwide. The initiative originated in Bogotá, Colombia, where it is known as "Ciclovía" and practised on Sundays and public holidays by approximately 2 million people on 120 kilometres of car-free streets. The local NPO is supported by TUMI (Transformative Urban Mobility initiative), the City Of Cape Town, WWF Nedbank Green Trust and the help of many volunteers, residents and friends.


OPEN STREETS CAPE TOWN COMMITTED TO CHANGE
In a world where roads are built for cars, roughly half of all road fatalities involve pedestrians, cyclists and motorcyclists. This is due to the lack of infrastructure in place to accommodate these factors. The team from Open Streets Cape Town recently participated in a TUMI Network webinar hosted by ICLEI – Local Governments for Sustainability, which was aimed at combating these issues. The discussion used real-world examples of reimagined streets to uncover how changing the way we move in our spaces can create safer, healthier, more accessible, and more sustainable African cities.

SEE THE WEBINAR HERE


HOW TO PARTICIPATE IN OPEN STREETS MITCHELLS PLAIN
Take part in the public meetings and planning sessions and invite your friends to do the same.
Organise an activity – from yoga classes to art therapy, anything goes as long as it's fun, inclusive and safe. If you're interested you can register here.
Apply to be a food vendor (email info@openstreets.co.za)
Spread the word – use word of mouth to get your community involved.
Come along on the day and bring your family and friends.
ENTRY TO OPEN STREETS MITCHELLS PLAIN
Open Streets Mitchells Plain is FREE and will take place from 12pm to 5pm. All are welcome. Remember to ditch your car, and make use of public transport, your feet or a bike to get to the bustling location.
For more information, contact Open Streets Cape Town at +27 (0)21 286 0823, or email info@openstreets.co.za.
---
Run, walk, skip, cycle or dance your way through Open Streets Woodstock.
Stay up to date with great things to do this weekend.
Keep the kids entertained on a budget with these family-friendly events for free or less than R66 in Cape Town.
---
Supercharge your event? Our Events Support Programme gets results. Contact support@capetownmagazine.com or +27 (0)21 422 2444.
Use our events section for an up-to-date overview of what's happening in the city, suburbs and dorpies. Join our newsletter and add us to your mobile home screen for the ultimate guide to discoveries in Cape Town.
Follow and like us on Twitter ❤ Facebook ❤ LinkedIn ❤ Instagram ❤ Pinterest for updates.