Are You Tough Enough For This?
This dirty game has no winner, and is all about teamwork and (moerse) fun
Gather your buddies – you're about to embark on some F.U.N. First, you'll need at least one friend or colleague, then choose some gear you're happy to throw away afterwards, then get your grit on and enter Tough Mudder. It's an eight-plus kilometre obstacle course of filthy, muddy challenges that'll get your adrenaline pumping and, they swear, it's the bonding agent for good teamwork. Upon online registration, you'll be able to join a team if you don't already have one.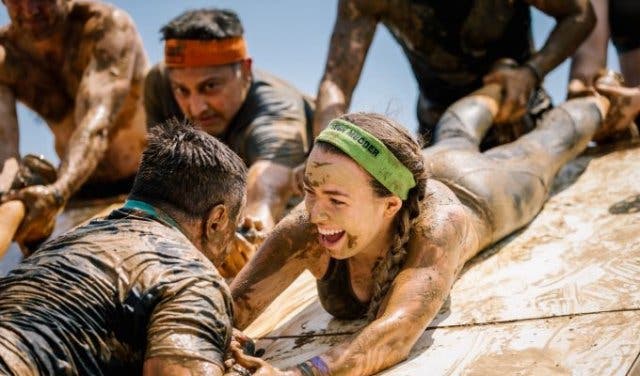 Tough Mudder is suitable for anyone from 14 upwards – the oldest competitor last year was 65 years old. Last year was its first edition and in 2019, some of the obstacles are redesigned so participants don't get complacent. The next event is happening in Houwteq, Elgin, on Saturday, 19 October.
WATCH: GET PUMPED FOR TOUGH MUDDER


THE OBSTACLES ARE DESIGNED BY THE BRITISH SPECIAL FORCES
The Tough Mudder obstacle course is designed by members of the British Special Forces to test your all-around strength, stamina, mental grit and camaraderie. They're designed to be completed as part of a team, whether your mates provide a helping hand or just an encouraging cheer.
There are three events: Tough Mudder Half 2019, Tough Mudder Full 2019, and Tougher Mudder 2019. Tough Mudder Half is an eight-kilometre course with 16 obstacles, eight of them new. Tough Mudder Full is a 16-kilometre course with 24 obstacles, seven of them new. The Tougher is the same course as the Full, but gets timed. Whichever one you choose, as a participant, you'll earn the title of a "Mudder".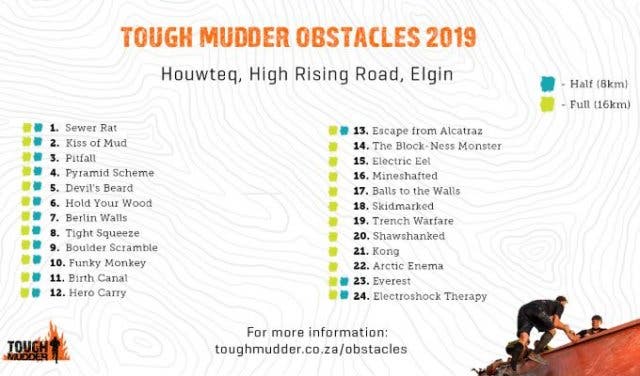 THE BADDEST MUDDER OF THEM ALL
The toughest of all obstacles is the Pyramid Scheme, which requires plotting and teamwork. The team needs to use each other to scramble, climb and push each member up a slippery incline. Don't have a group? Don't worry; you'll be able to join on when you register online.
WATCH: PYRAMID SCHEME OBSTACLE


EVERYTHING YOU NEED YOU'LL GET ON SITE
The event takes place in the Mudder Village, which is set on a grassy field within Houwteq in Elgin in the Overstrand. You'll find everything you need there, from storage facilities and apparel for sale (in case you forgot what you need), a warm-up zone, rinse stations and warm showers for afterwards.
There's plenty of shaded seating if you need to sit out, and Heart FM will be playing music throughout the day.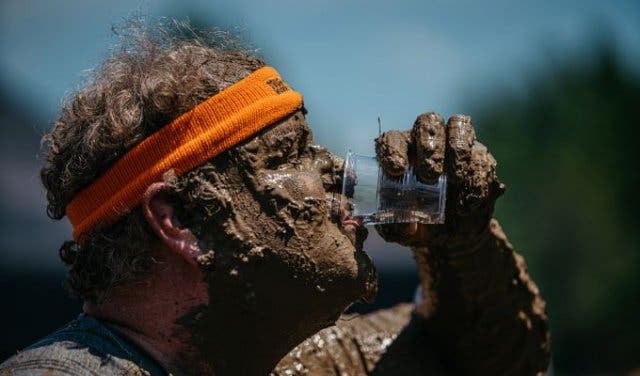 PLUS THERE'LL BE FUEL AT THE FOOD TRUCKS
There'll be a range of food trucks serving everything from pulled pork tacos and burritos to hamburgers and beer-battered fish and chips. Seattle Coffee will be on hand for your caffeine fix and
CBC and Hunters will provide drinks to toast your accomplishments.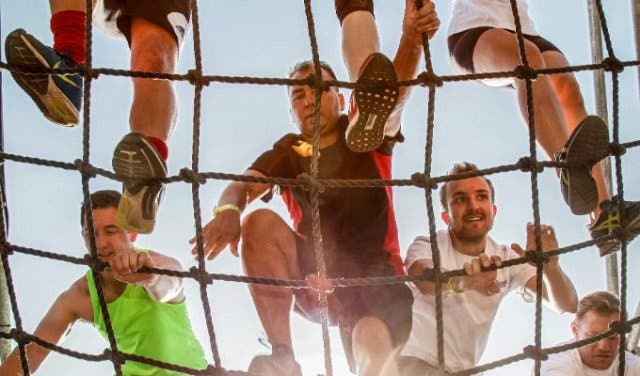 ATTENDING TOUGH MUDDER
Entry costs R450–R900 and can be booked online. For more information, contact the organisers directly on +27(0)21 824 3134 or kelsey@toughmudder.co.za.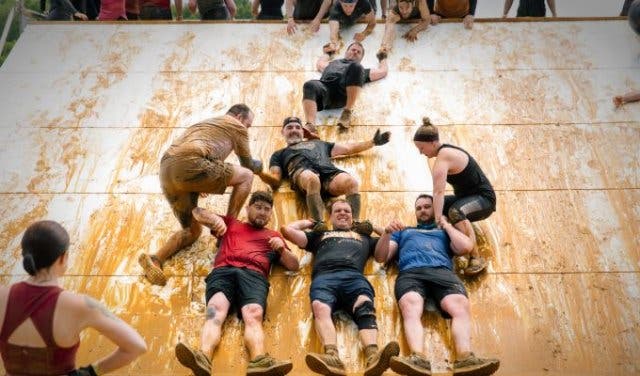 ---
Race at your own pace, without any pressure at Runstacle.
Get your team pumped with any of these team-building activities.
While you're in the area, check out the Elgin Railway.
If you're working on your fitness, check out our overview of gyms in Cape Town and ways to keep fit.
---
Supercharge your event? Our Events Support Programme gets results. Contact support@capetownmagazine.com or +27 (0)21 565 0415.
Use our events section for an up-to-date overview of what's happening in the city, 'burbs and dorpies. Join our newsletter and get quick access on the go by adding us to your mobile home screen for the ultimate guide to discoveries in Cape Town.

Follow and like us on Twitter ❤ Facebook ❤ LinkedIn ❤ Instagram ❤ Pinterest for updates.