Can You Endure The Gruelling Mountain Biking Trails?
Round 1 of Enduro WC kicks off at the beautiful Contermanskloof Farm
Enduro Western Cape is a long-distance race for bicycles or e-bikes typically over rough terrain that is designed to test endurance. Tygerberg's Contermanskloof Farm is the beautiful setting hosting this Enduro race.
Riders race to become Western Cape champion – "The Best in the West" – and can even earn their provincial colours, but it's more about the personal challenge and great community vibes.
The Enduro WC events are run by a committee of six members of the riding community and led by Harry Millar. Millar says: "We're inspired by the kind of riding that we love doing on the weekends, and this event is just the racing embodiment of that. We want to give riders maximum fun factor while providing a test of fitness and technical ability."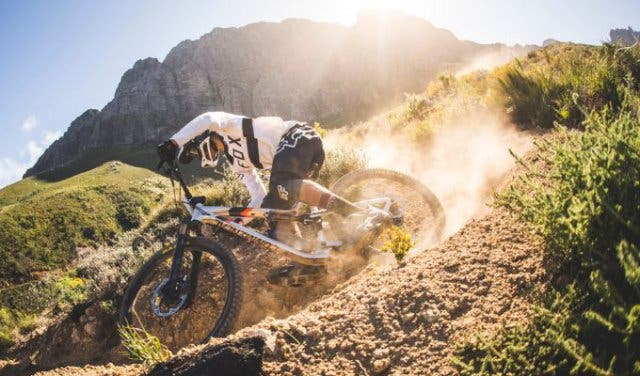 WHAT IS ENDURO?
According to Millar: "Enduro is your normal weekend trail riding loop, where the downhill sections are timed against the clock, and you get to compare times with your mates afterwards. Many people think it's all about hectic downhill, but that is really not true. The vast majority of trails are easy to ride slow, but difficult to ride fast."
WATCH: HOW TO ENDURO
HOW ABOUT AN E-BIKE?
An e-bike still has to be pedalled like a normal bike, but it has an electric motor to provide some boost for the hills. Millar says: "They are super fun to ride – many are saying it is the future of bicycles and in five years time, we'll all be on one. At the moment they are still a small minority, but it will be interesting to see how the sector develops."
MORE ABOUT THE ROUTE
The route at Contermanskloof makes use of all the trails made available by Tygerberg Mountain Bike Club (one of the event sponsors), including ones that are not usually open to non-members. About 25km in length, and around 1000m ascent. The race organisers have been working on some new stages, so it won't be the same as before. Remember to wear all your protective gear. Enduro WC is sponsored by Tygerberg Mountain Bike club and Giant Bicycles SA.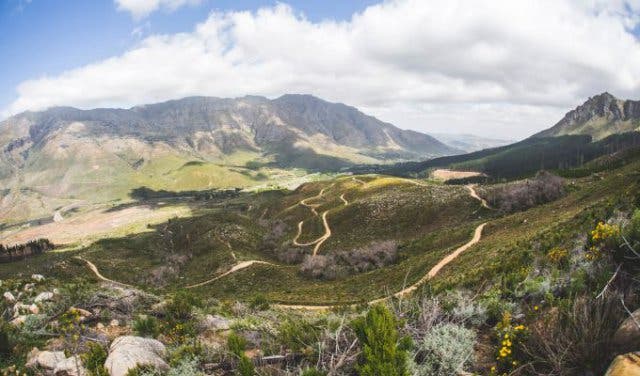 A FAMILY EVENT + REFRESHMENTS
The full race is open to children 12+ years of age, and younger children can do the first three stages (out of five). The racing is not appropriate for very small children, but there is a jungle gym play area and spectators are welcome, so it makes for a great day out on the farm. There will be a braai with boerewors rolls for sale and the Dairy Shed will be supplying coffee and carrot cake.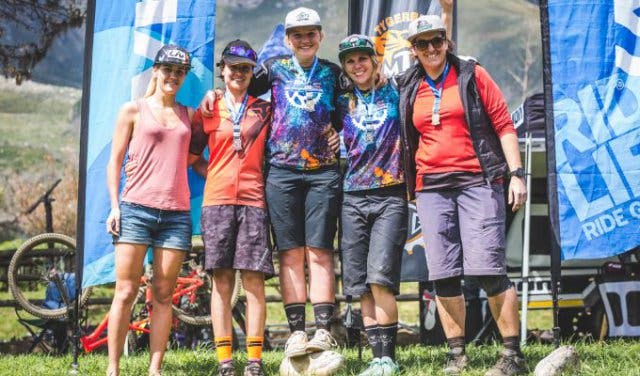 ATTENDING ENDURO WESTERN CAPE
Registration starts at 8am for the lite Enduro 15km route and costs R264. Registration for the full Enduro 30km route also starts at 8am and costs R364. You can enter via Entry Ninja online. The most up-to-date info can be found on the Facebook event page or for more information, please contact the organisers directly on info@irideafrica.com. This is the first in a series of three races taking place throughout the year. To find out about future races, follow them online.
---
Escape to the quietness, magical views and trails in Greyton during the Greyt Escape.
Two-wheel fans, have you tried any of these awesome cycling routes?
There are many exciting ways to keep fit in Cape Town.
If you love the farm life and the outdoors, check out these animal encounters.
---
---
Supercharge your event? Our Events Support Programme gets results. Contact support@capetownmagazine.com or +27 (0)21 422 2444.
Use our events section for an up-to-date overview of what's happening in the city, 'burbs and dorpies. Join our newsletter and get quick access on the go by adding us to your mobile home screen for the ultimate guide to discoveries in Cape Town.

Follow and like us on Twitter ❤ Facebook ❤ LinkedIn ❤ Instagram ❤ Pinterest for updates.